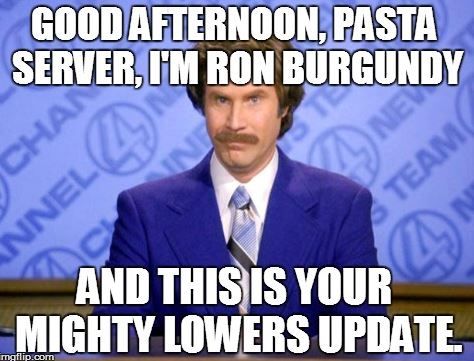 Well, hello there, Pasta Server. Hope everyone had as great a weekend as we did here in the Mighty Lowers. The party just never stops down here. If anyone else is coming, can you pick up a few kegs? The Chinese may be renowned for low alcohol tolerances, but so many of them showed up that we're running low on beer.
It's been a crazy few days for the Mighty Lowers Public Information and Education Department as we've unveiled several new initiatives to improve peace, prosperity, and cooperation here in this wonderful, balanced world we call Pasta Server.
As the dominant guild and sole remaining superpower in this world, we have to preserve the peace, and the best way to do that is through effective public relations.
We've got a lot of ground to cover.
Shall we begin?
Our top news story for the day is:
Guild tag and name change for the Mighty Lowers, now to be known as:
[PANTS] We Are Not Wearing Any!
You see, pants are a bolshevik tool of the communist oppressor. So we're taking a stand against pants, and all of the postmodernist misery and oppression they stand for. No more will we be a guild of J. Alfred Prufrocks. There are to be NO pants in the Mighty Lowers; the line will be drawn here!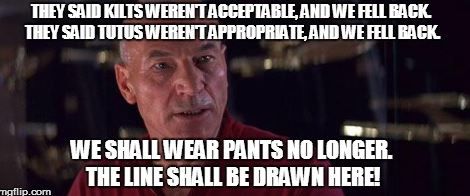 Now there was some concern about how this would work out, but so far, it's been fantastic. Sassy's running around perfectly happy in her panties, I'm rocking a kilt all over these here spreadsheets, and Battle?
Battle just looks fabulous in a tutu.
Wlerin, though...we never should have let Wlerin wear a sarong. I can never, ever unsee that horrifying image.
You see, in the Mighty Lowers, freeballin' ain't just a thing, it's a way of life. So set yourself free. Get rid of your pants, and join us in our crusade to build a better world. Take a stand against those who would imprison you in a prison of denim or khaki. Rise, my fellow proles. RISE!
"The idea of a belt holding my pants up seems so 20th century. Imagine a world where your pants are held high by your self-esteem. But it's a silly notion, really, because in a world such as that, nobody would even wear pants.
" -Jarod Kintz
[AKB48] is dead. Long live [Pants] (or at least for a week until we can change it again.) All current war declarations on everyone will continue under new tag.
Which brings us to our next item on the Mighty Lowers Update Agenda:
[Pants] AKA The Mighty Lowers extends our sympathies to China & Royal, currently operating as TBT, for the recent epidemic of arthritis and carpal tunnel syndrome amongst their ranks.
I know we're at war right now, but at the end of the day, this is just a game. We're all human here, and our ties of brotherhood and solidarity matter more than a war in a spreadsheet game. So we offer our sympathy to you, and extend our hands in solidarity as you go through this troubling time.
We were really confused as to why it was taking you guys so long to do
anything.
One member of [Pants] commented "My God, I've finished Armor 24, Plasma 19, and am almost done with Shield 15 and they're barely halfway down the cluster." Another remarked "I had all my bases hit in 09 and they've already recovered. At this rate, by the time they get to 00, they can farm their way back up the cluster and all the bases will be at full econ again."
We were concerned. Because China/Royal is incredibly elite, but even [Chi] moved faster and more decisively than [TBT] has been able to do. What happened? Then we heard about the outbreaks of arthritis and carpal tunnel syndrome, and we felt just
awful
for mocking you and questioning your leetness. I mean, it's one thing to take forever to move. Or to camp out down here for the entire server because we're the only group that won't bend over and take it. But it's a whole different thing for you guys to be crippled by medical issues, and all of us here at [Pants] AKA The Mighty Lowers wish to apologize most humbly for mocking you when this was clearly out of your control. We took up a collection and got you guys a big box of these:
All of us here in The Mighty Lowers wish you the best of luck in a speedy recovery and a return to your legendary status as the best players in the game.
And this brings us to our final, most important item in today's Mighty Lowers Update:
The Mighty Lowers declares war on Wu-Tang Clan, 50 Cent, Kanye, Eminem, and the entire genres of rap and hip-hop (with an exception for Tupac and ODB), and we are proud to announce The Mighty Lowers Battle Rap contest
.
Why award KDs based on activity, or cap stacks, or contributions to guild, when we can award them based on the battle rap skills of a bunch of pasty basement-dwellers who play spreadsheet games 18 hours a day? So The Mighty Lowers residents are currently composing epic battle raps to earn KDs. Both the best and the worst battle raps entered get KD bases as a reward for their talent and flow.
The lead entry so far was submitted by Princess GarryLestia, His Royal Bronyship, who actually made a video. It's EPIC. Seriously, all forum warrioring aside, this is the most hilarious thing I've seen in years of playing AE.
http://youtu.be/NxKzmMfPTWw
Also, from now on, to be considered for recruitment/relocation to the Mighty Lowers, you must submit a battle rap to us. To contact us for diplomacy, you must submit a battle rap to us. And if you want us to accept your surrender, you must submit a surrender rap to us.
If you can't rap, we'll accept a battle sonnet instead. Or even a battle haiku. But you best be bringing it, crackers.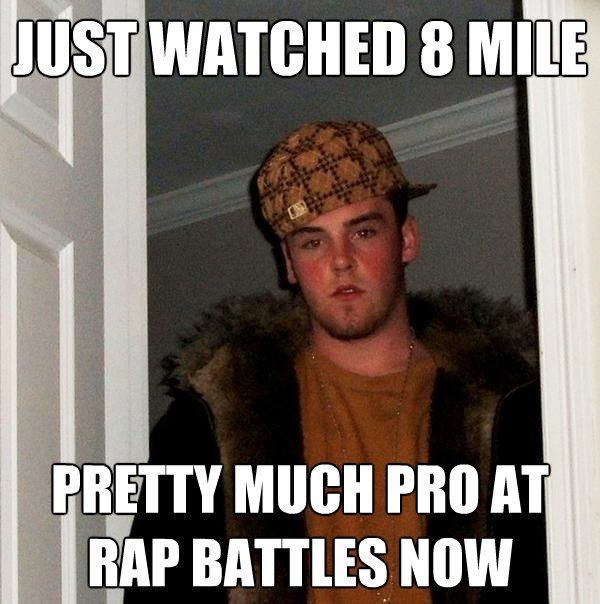 This concludes the early week edition of The Mighty Lowers Update. Every day we're a little mightier than the day before. And that works for us. So for all of us here in the Mighty Lowers, I thank you for your support, your time, and your derbs.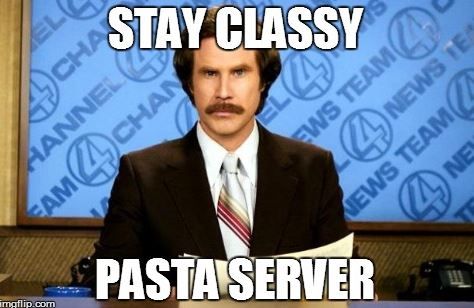 Here's some of the highlights and lowlights of our battle rapping so far:
Here's my entry:
Four in the morning but I'm not sleeping
Old forum flame wars I've been rereading
Heard you got a fleet needs some recyclin'
Just lemme know my fleet will fit you in
I'll necro a dead thread up like a zombie
Leave some bait out, watch 'em try to bomb me
Lookin' for a fight, tryin' to stay tough
This flask of whiskey screamin' to burn off

Never techwh**e because I'm producin'
Photon 20 for CR spec? Who you think you foolin'?
Need those credits to build my fleet
My gaming on a spreadsheet makes me so leet

5am I'm wastin' time, gettin' wild
Not Amused's destruction my constant brainchild
I'm starting wars between the stars
Wipin' fleet off your radar
Royal? FAIR? China Family?
Declare on 'em, derb 'em, watch 'em flee.

Battle's dreads might as well be made of onyx
Legions of frigates bouncing off like pinpricks
If you want justice better look elsewhere
Cause I have six-six-six kinds of hardware
Pointing at TBT
You're gonna RIP
So, **** you,
Imma make you retreat

And now I'm beat
But to repeat
Mighty Lowers oh so leet
Distributing all sorts of defeat
Sure, Sassy's yellin' is on repeat
But we still own this street
Do you hear me, gonna lose that fleet!

Word.
Titanium Ranger:
whether we're fightin, or *****in,
our training regimen's somethin
we go harder and faster.
like a natural disaster
y'all best be callin feema
to pick up all the pieces
then start running and hiding
like george bush after katrina
Mighty lowers are getting you right
where we want you
we're the real asian sensations
fighting off your invasions
like chairman mao and his crusade
against a decent education
struttin like a rooster addex rips on our style *beep* of the walk?
Bro you just strokin MOE's bloc
You know, you sure talk big for one little man.
how long till until china figures out napoleon's peter pan
you gotta grow up dude, cause this is a man's game.
you gonna meet your waterloo bro, and there ain't no elba.
Yo MOE bros, how many chinamen does it take to zerg up a server?
112, or just one lousy *****?
*3 lines deleted because too much to **** out*
but we're hot *****, you not *****
you gotta problem that we like to fly
well we say tough ******
y'all just mad because we like the gingerbread man
you can run and run as fast as you can
only getting closer to the ****** hitting fan man.
we got thorns like thistles
MC Ranger don't touch us homie
think my rap is bad bro?
call me the big whistle
so you can go ahead and **** me
This one is by Crixus, AKA Fett's Vette:
Okay Gambino is a mastermind, I am not the student
I am Ruthless so don't Baby me your candy bars are useless
I'm like poetry in motion, yeah my flow could start a movement
so if you wanna take me lightly make like Nike and just do it

yeah

Lights, camera, action. That's my life on a pedestal called
My satisfaction.
Can't get on my level you ain't rapping right
Trippin' like the acid type
You quarter of my height third of my talent you ain't half as nice
I'm bragging right 'cause being great at something gives you bragging rights
And that's the life I have in mind, Tony Hawk I have to grind
Show me love I rap with mine
hip hops in a casket
double checked it I just got back from the afterlife
and rap has died so that is why
I'm sorta low on patience
You know when you're in the know
but the show isn't in your favor
you open with closing statements
to throw off the growing rage knowing most that you've illustrated
Are finger paintings compared to the growth of imagination
a lot of you know the shallow appreciation that a deep mind gets
but food for thought, I still keep mine fed
and please try, 'cause with each lifes breath
I know I cheat my death
But stop breathing? heh, be my guest
be proud, bleak clouds turn to deep sunsets
clear your mind, each thought is what becomes flesh
You are what you wish to become, guess if you want to become death
Then don't be but I ain't begun yet
So much.. more to give and a score to settle
"You're so *beep*ing greats" what I told the kettle
Cut in the fast lane to floor the pedal, don't get it wrong
If wealth arose from nowhere, I know a thorns embedded
Call me petty, what you want? Call me arrogant
and I'll tally up the times I've smashed a pussy that you'd marry
Rap or women make my standards dip? *beep*, I'm calling carly rae jepsen
like "if you want a Good Time, then I want a great breakfast"
Man you gotta work hard when you wanna stay relevant
I see you once a year like a holiday special
And that's music to my ears 'cause I'm using my career
While killing you behind the scenes undetected like I'm dexter in miami state metro
what's on the radio?
The *beep*s weird and I don't get it.. must be modern day lego
If rappers want my attention, it's a long wait kiddo
I will recognise your presence when it's fathers day, litterbugs
All you drop is trash, wanna tip? Use a tip
Nah that's wordplay, you really wanna tip? Choose your friends
Why make that mistake? What you sell your soul for?
I mean climate change is real but it's still a cold world... A bright spark to a white flame
No meth head 'cause this ain't a pipe dream, it's my scene
Even if nobody likes me, there's nobody like me
Killing tracks until the booth gets taped off as a crime scene
Man chill, you think that I won't profit?
I can sell, that's why I'm a show stopper
see me cheekin' em out? they bout to cremate my mouth
cause I say *beep* like oh, you got aids?
thats the easy way out Believe me you bout to say your prayers or say sayonara
I make these bars ta stake my name upon its own place of honor like Che Guavaras
My mental bleeds thru the seven seas
So sharp the art can carve into your heart
And let you peek at a trench as deep as the Marinaras
Burning mics since I learnt to write
Been going from the start
Wanna catch phrase? I'll sow it on your palms
not Black so i'm Blank Thought, won't concentrate on bars
'cause the flow of my brain storm made Noah build an ark....
what you sell your soul for? Heeling to an army of critics?
Toeing the line or they'll nail your image?
you put defeat in your mouth, winnings aren't in your business
not a leg to stand on, man we can't even kick it
the talent is gods gift, 'course its catchy - the mans sick
feminine letters, what you writin are trans-scripts
sleeping on me like the sand man on a sand binge
till it's forced gender reassignment.. tell me now whose the man, *beep*?..
this is cattle decapitation..Aggravated rape with a staple gun and I'm probably just
playing god 'cause there isn't one to stop me
from being cocky as *beep*, rhyming until my carbon copies are crushed
and always hiding where the bodies are stuffed
caught in my buzz, no chains on the
volcano flow, watch the party erupt
alarm clocks ringing.. stop sleeping and wake up
perspectives are in need of a shake up
Sin:
No way that I will be a turtle
Planetary rings is a hurdle
Take my base not my pilots
My fricken ships are on fire
Chinese eyes are too small to fly
My scouts be tapping them behind
Recycling debri is my mastery
Negative ratios is a blasphemy
Suck it p server noobs
I'm sucking ur sisters *****
-Sin
And, from Black Widow:
The absolute worst one will get 1 KD base
1 base
1 base
1 base
1 KD Base
I hope its me
Cos you see
I cant rap really

I know what your thinkin
this rap is stinking
I dont know what to type
Yeah baby
Yeah Baby
Im a thinking im a maybe

Gonna win this rap contest
Contest
Contest
Contest
oooo yeah Baby
well.....Maybe

Stop laughing you jerks
This rap is gonna work
at winning me a ****ing
KD Base
KD Base
KD Base
yeahhh
oooo baby

Word.

Copyright by Black widow 2014
And Mavric don't care, Mavric just don't give a....
When fleets come visiting
Sassy looks to give them a pounding
If she cant oblige then PoetiXXX Motion moves in from the side
and McBride flicks a whip but no one else gives a ****
We have been tasked to make up a rap,
but I would rather take a nap with a cat
so I give up on making a rap.