Sean get a grip.
Now, while I won't necessarily say that my propaganda is better (but it definitely is) Seans loose attempt of swaying our hearts to his side by playing on the much tired "muh cheats" line. Here's his full post as a screenshot.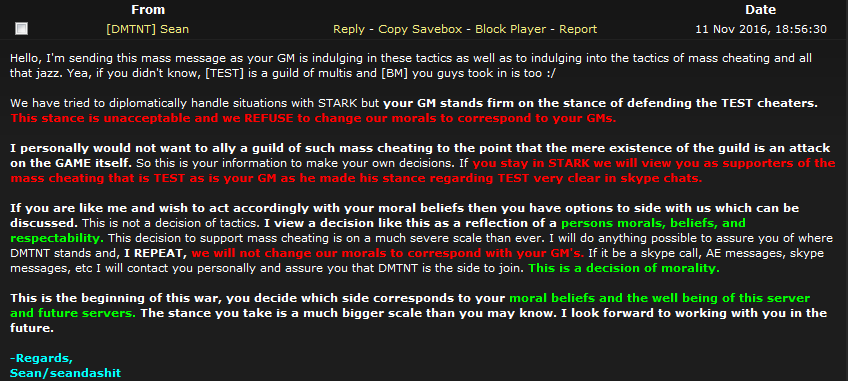 Thankfully now that I'm going dissect it paragraph by paragraph, you wont need to see that
horrid
colouring again.
[DMTNT] Sean Reply - Copy Savebox - Block Player - Report 11 Nov 2016, 18:56:30
Hello, I'm sending this mass message as your GM is indulging in these tactics as well as to indulging into the tactics of mass cheating and all that jazz. Yea, if you didn't know, [TEST] is a guild of multis and [BM] you guys took in is too :/
Apparently I, and all my friends for that matter are multies.
We have tried to diplomatically handle situations with STARK but your GM stands firm on the stance of defending the TEST cheaters. This stance is unacceptable and we REFUSE to change our morals to correspond to your GMs.
You mean when Melek tried to play every side in an attempt to have us all kill eachother? Very diplomatic really.
I personally would not want to ally a guild of such mass cheating to the point that the mere existence of the guild is an attack on the GAME itself. So this is your information to make your own decisions. If you stay in STARK we will view you as supporters of the mass cheating that is TEST as is your GM as he made his stance regarding TEST very clear in skype chats.
Except you have a mass history of pacting cheaters but it never seemed to bother you then, I'm glad you've grown a magical conciencce overnight Sean.
If you are like me and wish to act accordingly with your moral beliefs then you have options to side with us which can be discussed. This is not a decision of tactics. I view a decision like this as a reflection of a persons morals, beliefs, and respectability. This decision to support mass cheating is on a much severe scale than ever. I will do anything possible to assure you of where DMTNT stands and, I REPEAT, we will not change our morals to correspond with your GM's. If it be a skype call, AE messages, skype messages, etc I will contact you personally and assure you that DMTNT is the side to join. This is a decision of morality.
I love that you bring up "On a much more severe scale than ever". It's simply not true, it never will be. You wouldn't know ofcourse Sean, but there was once a faction called China, this said faction are the benchmark for cheating. Any cheating that goes on now will NEVER reach the scale that they did.
It's also extra entertaining as you are in the same guild as the people whos morals you condemn on Gaia, didn't seem to care then did you?
This is the beginning of this war, you decide which side corresponds to your moral beliefs and the well being of this server and future servers. The stance you take is a much bigger scale than you may know. I look forward to working with you in the future.

-Regards,
Sean/*beep*
I always look forward to working with you as you make it so easy.