The Scour'a confederation. A race of beings that have only recently begun their first conquests of space. Their military prowess when they were developing though, was amazing. They would actively seek to find better tactics and eventually found that the best tactic was peace, this allowed them to advance scientifically rather quickly. They are a humanoid race originating from the Andromeda Galaxy.
(all ships were made in battleships forever)
The Scour'a Destroyer.
This nimble, manouverable and fast ship packs a hell of a punch due to it's converted particle boosters that were reverse-engineered from a backwater asteroid base, deserted for millions of years. It is usually used in large groups to destroy vessels large than it by passing them, making sure that their starboard firing arc is pointing at the enemy. They then circle in a tightly co-ordinated pattern, using the central scour'a battlenet to create a targeting channel to exploit any weak spots. This is just one innovation that the Scour'a developed in order to increase the efficiency of their ships.
The Scour'a Frigate
The frigate is equipped with a light version of the Scoura's main advanced weapon, the blumatter lance. This and several advanced particle boosters form it's armament.
The scour'a Heavy frigate
This frigate is stripped of all excess and retrofitted with a proper blumatter lance. This gives it the ability to hit targets far above it's own weight. It however has a lesser turning ability (compared to the handicap the Scour'a already have) and is therefore only ever used in large-scale fleet combat and rarely in offensives.
The scour'a Dreadnaught
This ship was developed in the first age, when the scour'a were being harrassed mercilessly by the kiaellic mothership. It was revolutionary and still does well in fleet engagements today.
The scour'a Heavy assault dread.
This ship carries three blumatter lances and can slice through enemy armor quite easily. However, it has no rear armor and is only used in assaults, as the name aptly suggests.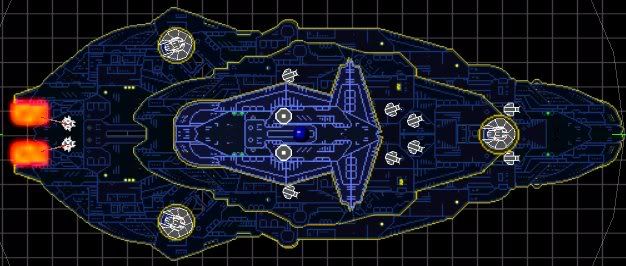 Scour'a Kinetic missle
This ship is an old scoutship, retrofitted with 600 Carbon-Iron metal 'Piercers' that can tear through enemy armor. This ship's purpose is to accelarate at a massive full speed of 8 geometric units per second towards the enemy and self-destruct seconds before impact, releasing it's deadly payload. It is totally computer controlled.